Love Bay Day Trip
Timbun Mata is the largest island in Darvel Bay and has the best Snorkeling point and hiking point
---
There are few beautiful islands found in Semporna. Timbun Mata Island is the largest island on the south side of Darvel Bay, in Semporna, Sabah, Malaysia. It is over 26 kilometres long and at the widest is almost 10 kilometres wide. It I is a paradise for travellers on the look out for white sandy beach, crystal clear water to relax and capture memories. Others than that, the island is mountainous and was formerly (pre-2000) densely wooded. The highest point at 620 m. - Mt. Tannabalu, is a conical, extinct volcano located at the centre of the island. While Mt. Sedungal, at the east end of the island rises to 489 m. T
The island has been inhabited since before records were kept. There are several villages on the island which have been there for at least several hundred years, Mantandak (in the west), Lakai Lakai (north), Dap Dap (northeast) and Kubor (east). In addition there are newer, illegal settlements which have sprung up on the southeastern portion of the island.
With the tour, you can hiking to the peak of Timbun Mata, exposes its beauty with pristine white sandy beach and gorgeous aquamarine salt water.
Insider tips
Remember to bring hiking shoes, insect repellent, extra set of clothes and pocket money, hat, towel and slippers
Additional Information:
No hotel pickup service is provided, please arrange your own transport to Semporna Jetty
This tour is not private tour, you will share the trip with other guests come from different countries
Details
What You Get
Includes:
Return boat transfer

Lunch
Snorkeling equipment
Water sport activity
Exclusions:
Gratuities (Optional)

Hotel Pickup
How To Buy
1. Select the preferred date and purchase online
2. Receive an email with the e-voucher within 2 working days
3. Present the e-voucher for verification to operator
4. Enjoy the activity
Terms and Conditions
Changi Recommends and the appointed operator will not be responsible for any accidents, loss of property or damaged caused by individual negligence

The e-ticket/e-voucher cannot be exchanged for cash or used on more than one occasion

Any alteration(s) on the e-ticket/e-voucher will not be accepted by Changi Recommends and the appointed merchant

In the event of unforeseen circumstances that affects tour departure or ticket/voucher invalidity, customers will be notified and be advised accordingly
Cancellation Policy:
No refunds will be entertained for cancellations

There will be no refunds even if included items are not utilised by the visitor

In the event of late comers/no show, it would be considered as cancellation and no refund will be given
Upon purchase of the ticket, you will receive an email confirmation with e-ticket/e-voucher within two days. Tours and tickets are subjected to availability and are not confirmed until a second confirmation email is received.
Highlights/Itinerary
* The itinerary is for reference only, it subjects to any necessary changes in accordance to local requirements.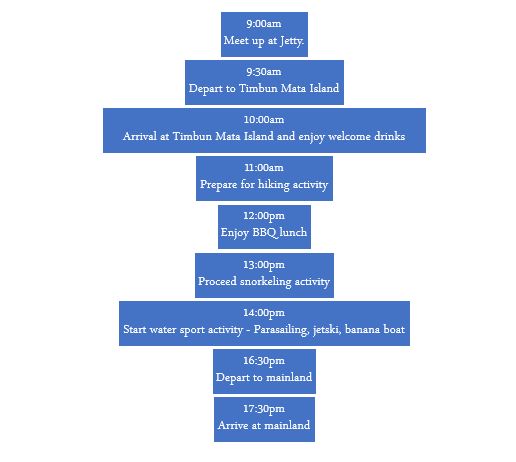 How to Get There
Meet up point:
Location: Semporna Jetty (Taman Bandar Semporna, 91308 Semporna, Sabah, Malaysia)
Meet up time: 9:00am
Please be at meet up point 15-20 minutes prior to the scheduled departure time. No refunds will be given for latecomers and no-show