Learn the insights into German food, food history and Berlin culture from a passionate and experienced local guide.
Embark on a three-hour German gastronomy tour in the heart of East Berlin. You will have the opportunity to discover both the local German food as well as the Turkish contributions that have been a part of our cuisine for over 50 years. You will experience our unique street food culture, beer halls and the way the locals go out to eat. You will also walk down historical streets and bohemian neighbourhoods, see the latest street art and go to the famous Berlin Wall and East Side Gallery, learning the history of how Berlin fought the division and re-united our city. All food, desserts, drinks and a professional tour of the city are included in the price. Once our experienced English-speaking guide concludes our food tour in Berlin, you will leave with a stomach full of the most delightful food and drinks. Not only this: you will also get local knowledge and sightseeing tips to enhance the pleasure of your trip that will last with you for a lifetime. Plus, with all our tours there is our Secret Dish, which you can only find out about on the day.
The Food:
Chicken shawarma
Flammkuchen
Our signature Secret Dish
Turkish treats
Homemade schnitzel
Dessert
Drinks:
German wine or beer or homemade iced tea
Fritz kola
Upgraded drinks package for those interested in additional drinks: 2 large steins of beer and Berliner Luft
Operating Hours
The tour starts at 11:30 am.
Address of Meeting Point:
Warschauer U-Bahn Station
10243 Berlin, Germany
What You Get
Secret Food Tours Berlin
Includes
3 to 3½ hour guided food tour of Friedrichshain area, Berlin
A passionate and experienced English-speaking local guide
Great insight into German food, food history, and Berlin culture
Small intimate groups
A belly full of wonderful foods and flavours
[Add-on] Upgraded Drinks Package
Includes
2 large steins of beer
Berliner Luft (a short shot of a digestive to help settle your delicious food)
Upgrade your Secret Food Tours Berlin experience with our upgraded drinks package! You must be 18 or older and have a valid ID.
How to Use
Kindly present a printed or mobile copy of your voucher to the tour operator at the meeting point
Terms and Conditions
Changi Recommends and the appointed operator will not be responsible for any accidents, loss of property or damaged caused by individual negligence
The e-ticket/e-voucher cannot be exchanged for cash or used on more than one occasion
Any alteration(s) on the e-ticket/e-voucher will not be accepted by Changi Recommends and the appointed merchant
In the event of unforeseen circumstances that affects tour departure or ticket/voucher invalidity, customers will be notified and be advised accordingly
Cancellation
No refunds will be entertained for cancellations
There will be no refunds even if included items are not utilised by the visitor
In the event of late comers/no show, it would be considered as cancellation and no refund will be given
Upon purchase of the ticket, you will receive an email confirmation with e-ticket/e-voucher within two days. Tours and tickets are subjected to availability and are not confirmed until a second confirmation email is received.
FAQ
WHAT IS INCLUDED IN THE FOOD TOUR?
All the delicious food and drinks, but if you want more alcohol (and who doesn't?) We offer a upgraded drinks package that gives you 2 drinks.
ARE TIPS ACCEPTED?
With pleasure! Though of course not mandatory.
WHERE IS THE MEETING SPOT?
We will meet outside of the Warschauer U-Bahn Station. If you take the S-Bahn to Warschauer, exit the station upstairs and walk to your left, the U-Bahn station is very close (less than a minute). The guide will have an orange umbrella (easy to spot).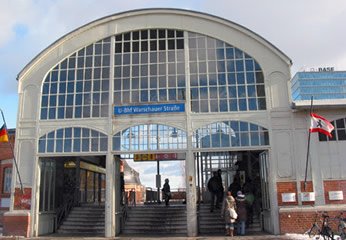 WHERE THE TOUR WILL END?
Berlin Food Tour ends at the Berlin wall a short walk from the start point U1 station.
IS YOUR FOOD TOUR SUITABLE FOR A VEGETARIAN OR SOMEONE WITH OTHER DIETARY REQUIREMENTS?
You can always tell our guide of any food allergies or special dietary requirements so that way we will adapt the menu so you can enjoy the tour! We have had many vegetarians during the tour with us and they all enjoyed it thoroughly. Unfortunately, this tour is not gluten free.
I AM TRAVELLING WITH MY FAMILY, IS THE TOUR OK FOR INFANTS/CHILDREN?
Children are quite welcome and it's free for any child 2 years or under. We can give them drinks other than alcoholic and you are free to enjoy the tour with your entire family of all ages.
I DON'T DRINK ALCOHOL. CAN I BOOK YOUR TOUR?
This is not a problem. Just inform our guide before the tour starts. During the tasting you can select another beverage you like!
IS THERE ENOUGH FOOD DURING YOUR TOUR?
Think of the tour as a tasting menu. As we travel you get many delicious treats that comprise a meal with dessert. But there is a lot of food, you will not be hungry after the tour.
IS THERE A LOT OF WALKING?
To join our food tour, you should wear comfortable shoes. There will be around 40 mins of walking, but it is not too difficult and is broken up between food stops. The guide walks at the pace of the tour members, you will never be rushed. There are no stairs on the tour or hills.