Indulge yourself in a gastronomic experience you'll always appreciate & never forget about Edinburgh!
Our Secret Food Tour London Bridge takes you into the heart of historic monuments, 'quirky' pubs and bustling food markets. You'll explore the world-famous London Bridge area, including sights such as Tower Bridge, HMS Belfast, Borough Market, the Golden Hind and the Shard, whilst sampling delicious, traditional British cuisine including fish chips, bacon baps, homemade sausage rolls and many more. And of course, as with all our tours there is our secret dish, which will only be revealed on your tour.
At Secret Food Tours: Edinburgh, we are wildly passionate about all the delicious food found around our historic city. On our tour you'll have the opportunity to experience our passion by eating traditional Scottish food, such as authentic Haggis, award winning Lowland Single Malt Whisky, and sample our amazing cheeses and desserts. Additionally, on all our tours, there is our Secret Dish, which you can only find out about on the day. All of this alongside a knowledgeable guide who'll share all the fascinating history and culture that makes Edinburgh so great!
The Food:
Traditional and warming Haggis, Neeps and Tatties
Creamy Scottish cheese
Scottish Cakes
Our secret dish
Drinks:
A classic Lowland Whisky
Non-alcoholic options
Locally loved pot of tea
Water
Upgraded drinks package for those that desire more serious libations: a bottle of craft beer and Highland whisky liquer
Operating Hours
The tour operates daily at 12:00 pm and 4:30 pm.
Address of Meeting Point:
St. Giles' Cathedral
High St, Edinburgh EH1 1RE, UK
What You Get
Secret Food Tours Edinburgh
Includes
3 to 3½ hour guided food tour of the London Bridge area
6 stops
A knowledgeable & charming, English-speaking tour guide
Interesting stories about Edinburgh food, culture & history
Small groups (Max 10)
An experience you'll always appreciate & never forget
[Add-on] Upgraded Drinks Package
Includes
A bottle of craft beer
Highland whisky liquer
Upgrade your Secret Food Tours Edinburgh experience with our upgraded alcohol package! You must be 18 or older and have a valid ID.
How to Use
Kindly present a printed or mobile copy of your voucher to the tour operator at the meeting point.
Terms and Conditions
Changi Recommends and the appointed operator will not be responsible for any accidents, loss of property or damaged caused by individual negligence
The e-ticket/e-voucher cannot be exchanged for cash or used on more than one occasion
Any alteration(s) on the e-ticket/e-voucher will not be accepted by Changi Recommends and the appointed merchant
In the event of unforeseen circumstances that affects tour departure or ticket/voucher invalidity, customers will be notified and be advised accordingly
Cancellation Policy:
No refunds will be entertained for cancellations
There will be no refunds even if included items are not utilised by the visitor
In the event of late comers/no show, it would be considered as cancellation and no refund will be given
Upon purchase of the ticket, you will receive an email confirmation with e-ticket/e-voucher within two days. Tours and tickets are subjected to availability and are not confirmed until a second confirmation email is received.
FAQ
WHAT IS INCLUDED IN THE FOOD TOUR?
All the delicious food and drinks, but if you want more alcohol (and who doesn't?) We offer an upgraded drinks package that gives you 2 drinks, tax and tip included.
WHERE IS THE MEETING SPOT?
On the day of your booking please meet at 12:00 p.m. and 4:30 p.m. in front of St Giles Cathedral at the West parliament square side, opposite the french consulate. The guide will be carrying an orange umbrella, so you should spot him/her easily. Please let the guide know any food you cannot eat.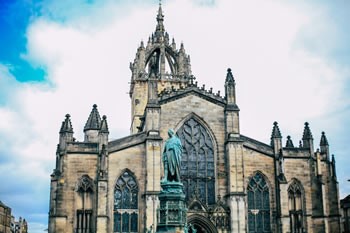 WHERE THE TOUR WILL END?
Please take note that the tour ends at st Marys street which is about 3/4 of the way down the Royal Mile.
IS YOUR FOOD TOUR SUITABLE FOR A VEGETARIAN OR SOMEONE WITH OTHER DIETARY REQUIREMENTS?
You can always tell our guide of any food allergies or special dietary requirements so that way we will adapt the menu so you can enjoy the tour!
I AM TRAVELLING WITH MY FAMILY, IS THE TOUR OK FOR INFANTS/CHILDREN?
Children are more than welcome to our tour and it's free for any child 2 years or under! We have had many families attend from all over the world and everyone enjoyed the tour.
I DON'T DRINK ALCOHOL. CAN I BOOK YOUR TOUR?
This is not a problem. Just inform our guide before the tour starts. During the tasting you can select another beverage you like!
IS THERE ENOUGH FOOD DURING YOUR TOUR?
We give enough food to all our customers. Trust us, you will not need to go to any restaurant after the food tour!
IS THERE A LOT OF WALKING?
To join our food tour, you should wear comfortable shoes. There will be around 1.5 hours of walking but it is not too difficult. If you walk slowly, then our guide will walk slowly as well.