Osaka City Water Bus - Osaka Castle to Yodoyabashi One-way Route
Take in the beautiful scenery as you cruise along the Osaka's Okawa River
---
Go on board the water bus, Aqualiner around Osaka from the river. On the water bus, you can not only enjoy the magnificent scenery of Osaka, but you can also take a look at the famous sites of Osaka. The water cty of Osaka, which you can see from the river surface, is different from the Osaka that you can imagine. In addition, there are four platforms and section boarding is also possible. Go on board this one-way water bus route from Osaka Castle platform to Yodoyabashi bridge.
Details
Operating Hours
10am - 4pm
What You Get
Osaka City Water Bus - Osaka Castle To Yodoyabashi Pier One-way Course
Adult: Age 12 and Above
Child: Age 6 to 11
Includes:
Boarding Fee to water bus
Excludes:
Additional Information
Children under 6 years old can board for free but will not have a seat
The e-voucher is valid for 90 days from the selected date (final validty is 27 March 2020)
Please go to the boarding point at least 20 minutes before the departure time to exchange for the ticket
If the water bus is full, please wait for the next one
For more information regarding the schedule, please refer to the official website
This ticket is only for Osaka City to Yodoyabashi Pier One-way ticket
The duration is about 20 minutes for one-way route
No meals are provided on board.
In order to ensure the safety of guests, due to weather or river conditions, sailing may be stopped or the sailing route may be changed without notice on the day of departure.
We will not be responsible if you are late for unusable situations.
Please go to the service counter to get the ferry ticket first. If you show the QR code directly at the boarding point, it will be unavailable. We will not be responsible for it.
Please check the departure status of the day before going to the official website.
Please note that Osaka City Water Bus will be closed from 29 Feb to 15 March 2020
How to Use
Present QR code at the boarding pioint to exchange for the ticket
Queue to board the bus
Terms and Conditions
Changi Recommends and the appointed operator will not be responsible for any accidents, loss of property or damaged caused by individual negligence

The e-ticket/e-voucher cannot be exchanged for cash or used on more than one occasion

Any alteration(s) on the e-ticket/e-voucher will not be accepted by Changi Recommends and the appointed merchant

In the event of unforeseen circumstances that affects tour departure or ticket/voucher invalidity, customers will be notified and be advised accordingly
Cancellation Policy:
No refunds will be entertained for cancellations

There will be no refunds even if included items are not utilised by the visitor

In the event of late comers/no show, it would be considered as cancellation and no refund will be given
Upon purchase of the ticket, you will receive an email confirmation with e-ticket/e-voucher within two days. Tours and tickets are subjected to availability and are not confirmed until a second confirmation email is received.
How to Get There
(1):Osakajo Pier (2):Yodoya-bashi Pier (3):Hachiken-yahama Pier (4):OAP Pier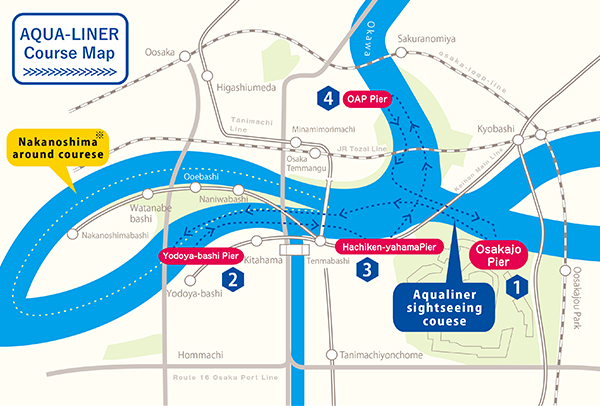 Boarding Point:
Port of Osaka Castle: Immediate west of Osaka-jo Koen of JR Loop Line (in front of Osaka-jo Hall)