Hells of Beppu and Kamenoi Bus 1 Day Mini Free Passport
Enjoy unlimited rides on the convenient and cute Kamenoi buses and see the seven spectacular hot springs known as the 'Hells' (Jigoku) of Beppu
---
While Beppu features a wide range of hot springs and spas, the Hells of Beppu are seven hot springs more for viewing rather than bathing. Each hell has unique features that differentiate them from one another. Learn more about the story behind each hot spring and take memorable photos! Travel from one place to another with ease by using the one day unlimited pass for Kamenoi bus which brings you to all the must-visit attractions in Beppu.
The seven hells comprise of the following:
Umi Jigoku: "Sea hell" with boiling blue water resembling the sea
Oniishibozu Jigoku: Named after the mud bubbles that emerge from the boiling mud pools
Shiraike Jigoku: "White pond hell" featuring a pond of hot, milky water
Kamado Jigoku: "Cooking pot hell" where you can try hot spring water and snacks cooked or steamed by the hot spring
Oniyama Jigoku: "monster mountain hell" where many crocodiles live
Chinoike Jigoku: "Blood pond hell" featuring hot, red water
Tatsumaki Jigoku: "Spout hell" featuring a boiling hot geyser
Details
Operating Hours
Opening Hours:
Hells of Beppu: 8 am – 5 pm (last admission at 4.30 pm)
HIS Counter: 8.30 am – 8 pm
What You Get
Hells Of Beppu And Kamenoi Bus 1 Day Mini Free Passport
Includes:
Admission to Beppu Jigoku Onsen (Hells of Beppu)
Kamenoi Bus 1 Day Mini Free Passport
Excludes:
Insider tips
As the water and rising steam from the hot spring is very hot, please avoid getting too close
Foot baths are available free at the Umi, Chinoike, Oniishibozu and Kamado Jigoku. Please bring your own towel to dry-off after
Additional Information
Children below the age of 0 to 5 are free of charge
E-voucher is valid for 180 days from date of booking
The e-voucher will not grant you entry to the Hells of Beppu. Please exchange it for a physical ticket at Fukuoka airport
Collection of physical ticket is only available during counter operation hours
You may be asked to present identification or your passport for verification
The admission ticket is limited to the 7 hells: Umi Jigoku (Sea Hell), Shiraike Jigoku (White Pond Hell), Oniyama Jigoku (Devil Mountain Hell), Oniishibozu Jigoku, Kamado Jigoku, Chinoike Jigoku (Blood Pond Hell), and Tatsumaki Jigoku (Tornado Hell)
Only one entry is permitted per hot spring. No re-entry is allowed
The Kamenoi Bus 1 Day Pass includes unlimited rides within the day of visit
Please note that a surcharge is required outside the range of routes (price varies)
How to use
After booking, you will receive a second email with your e-voucher
Please save your e-voucher on your phone or print out a copy
Present the voucher at the following counter to redeem physical tickets:

Fukuoka Airport, Arrival Lobby of International Terminal Building, 1F, HIS counter
Collection time: 8.30 am – 8 pm

Hells of Beppu: Present the physical ticket at the entrance
Kamenoi Bus Pass 1 day passport: scratch off the year, month and day on which you intend to use the pass. The pass can then be used unlimited times on the selected date. Present the pass to the bus driver when disembarking the bus.
If the wrong date is scratched off, you will not be able to use the pass and no refunds will be provided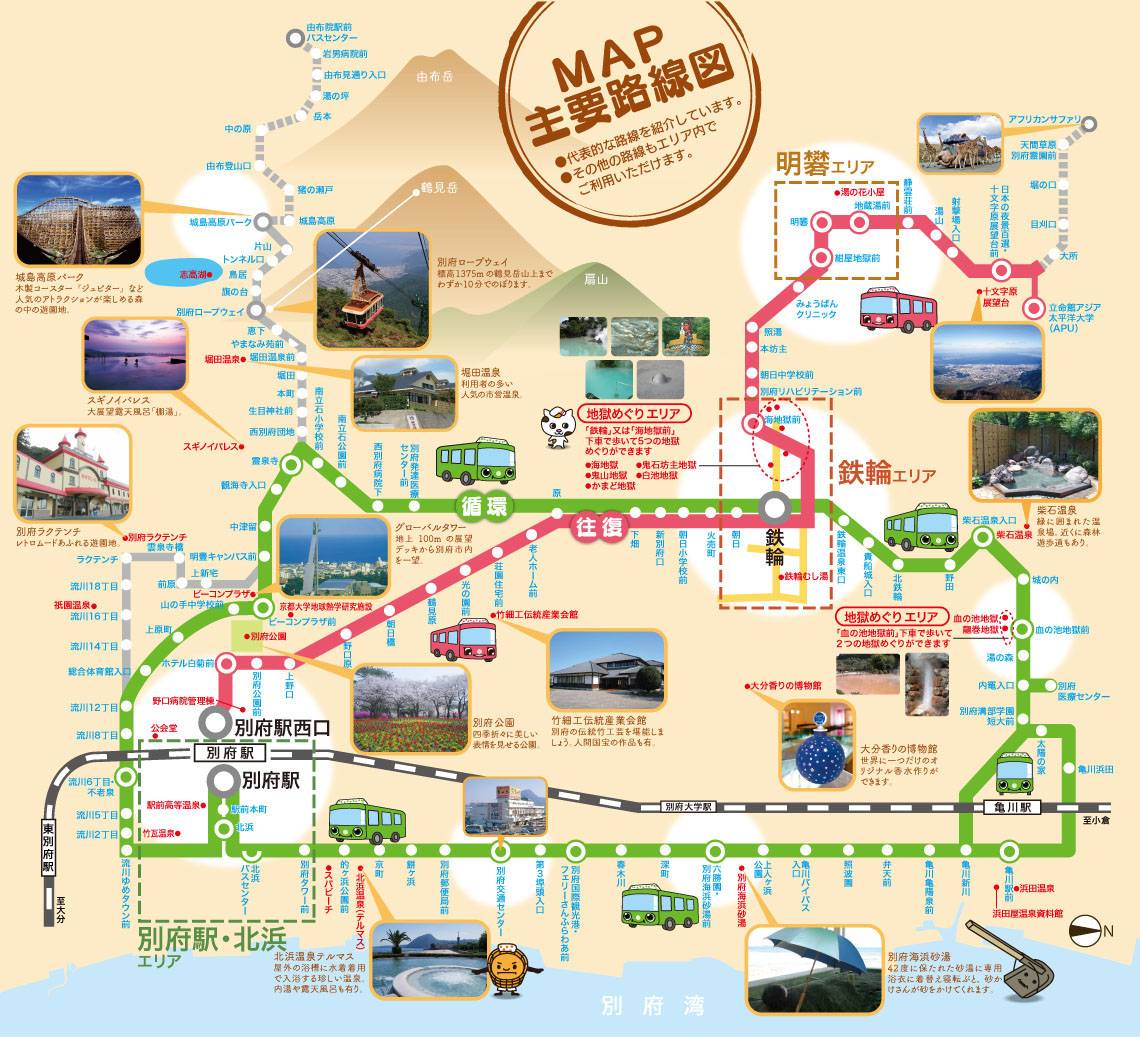 Terms and Conditions
Changi Recommends and the appointed operator will not be responsible for any accidents, loss of property or damaged caused by individual negligence
The e-ticket/e-voucher cannot be exchanged for cash or used on more than one occasion
Any alteration(s) on the e-ticket/e-voucher will not be accepted by Changi Recommends and the appointed merchant
In the event of unforeseen circumstances that affects tour departure or ticket/voucher invalidity, customers will be notified and be advised accordingly
Cancellation Policy:
No refunds will be entertained for cancellations
There will be no refunds even if included items are not utilised by the visitor
In the event of late comers/no show, it would be considered as cancellation and no refund will be given
Upon purchase of the ticket, you will receive an email confirmation with e-ticket/e-voucher. Tours and tickets are subjected to availability and are not confirmed until a second confirmation email is received.
How to Get There
Redemption counter: 1F International Terminal Building, Shimousui, Hakata-ku, Fukuoka-shi, Fukuoka-ken, Japan